Lapala Chairs
Woven outdoor dining chairs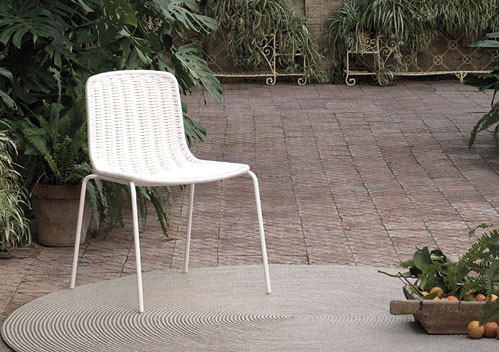 Notice: This item is out of stock. It's available to buy with the lead time shown on the left.


Description
Quality hand-woven outdoor seating from Expormim with a nautical style
The Lapala collection of chairs offers great seating comfort as well as an effective resistance to outdoor living with its stylish hand-woven seats in a nautical rope and powder-coated stainless steel tubular frames. The collection consists of a low arm chair to relax with or without a foot stool, an arm and side chair, and a high bar stool.
For more information on pricing, alternatives chairs, finishes and potential samples please email us at purves@purves.co.uk or call 020 3397 3723, we're here to help. Alternatively please see the downloads below.
Designed by Lievore Altherr Molina for Expormim
Dimensions:
Arm chair - w59 x d57 x h79cm (45cm seat height)
Side chair - w55 x d57 x h79cm
Downloads: Arm chair // Side chair
Materials:
Powder coat frame - 100 white; 111 FT graphite; 108 FT oxide (with texture); 109 FT champagne (with texture)
Polyester rope - 400 white; 401 black; 409 taupe; 410 SPK orange; 411 SPK dark orange; 413 SPK oxide
* returnable samples are available in return for a £10 deposit
Units in box: 1