Air Wheel - w136.4cm x d51cm x h56cm – two drawers with deep drawer beside on wheels (AW02) in satin green glass
Modern, easy to move, office storage.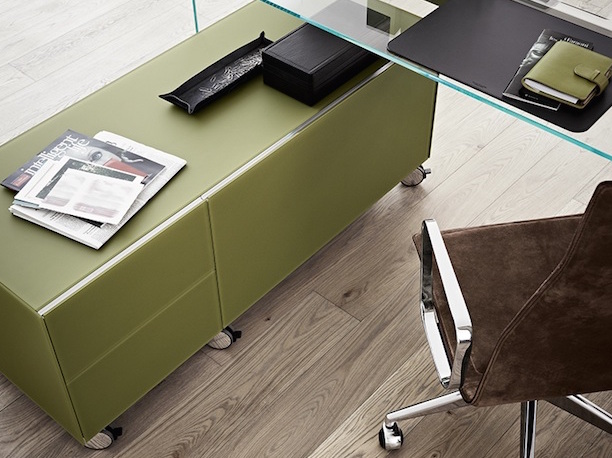 Notice: This item is out of stock. It's available to buy with the lead time shown on the left.


Description
Modern, easy to move, office storage
The AIR WHEEL from Gallotti & Radice is a wonderful mobile storage unit. Very elegant in design and very practical! The construction is crafted in wood and then clad in Gallotti's painted glass which can be in a number of colours to suit any interior scheme.
The combination of drawers and cupboards is up to you. However we have priced a couple of standard units, one with two drawers to the side of a deep filing drawer and simply a double cupboard. For further options please see the attached technical sheet and contact us at purves@purves.co.uk or call 020 3397 3723 for further information.
Glass colours: please see technical sheet in the image gallery to select from 17 colour ways. Samples can be arranged on request in return for a £10 deposit.
Glass finishes: Bright or Satin
Product sizes:
w91.4cm x d51cm x h56cm – double cupboard on wheels (AWU01)
w136.4cm x d51cm x h56cm – two drawers with deep drawer beside on wheels (AW02)
Units in box: 1