Caadre Mirror
A design classic from Fiam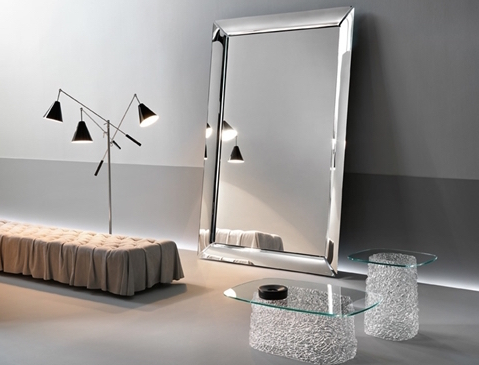 CAADRE MIRROR - Floor standing version

Description
An exquisite mirror, designed by Philippe Starck.
This contemporary mirror has a design entirely in mirror glass. The most distinctive feature of this mirror is its size and curved glass frame, a unique Fiam Italia skill.
The mirror frame is in 6mm thick glass with a metallic paint finish and makes for a stunning piece that would be an outstanding feature in any room.
Designed by Philippe Starck for Fiam.
By special request it is possible to have the glass "wings" with the engraved pattern shown in the hanging image. In addition, please note the largest size mirror comes with feet for standing against the wall.
NB: Prices are estimates only and a quote will be obtained for you upon an enquiry.
Example Dimensions:
Please see the specification image for sizes, but note for reference the category thumnail "from price" is for a neutral frame 105x105cm square hanging mirror.
PLEASE NOTE: These are made to order. If you cannot see the size or version you are looking for please email us at purves@purves.co.uk or call 020 3397 3723 to discuss ranges, price, delivery times and installation.
Units in box: 1