Password
Contemporary shelving with a solid feel.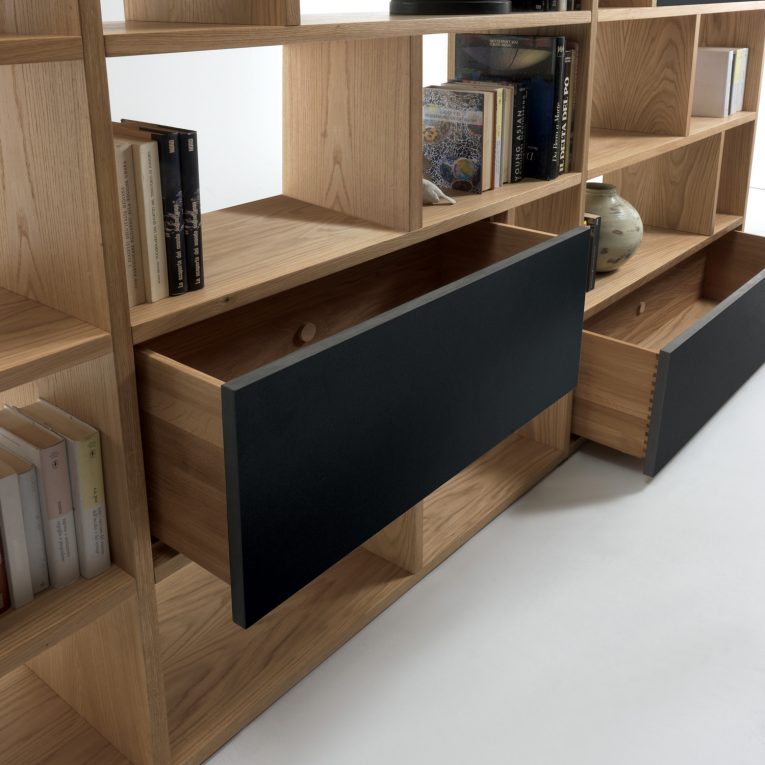 Password Project 1 bookcase in oak & concrete effect fronts_layout

Description
A bookcase with a simple design, yet beautifully made in either walnut or oak.
The Password is a modular system of bookshelves made up of uprights and shelves in veneered multilayer. The bookcase can be either arranged to your choosing or further personalised by using a range of elements including drawers and doors with fronts in either wood or IronDust lacquered effect.The Password bookcase can also be finished on the back in a similar fashion making it a great room divide accessible from both sides.
As mentioned these shelves can be customised, however there are some standard options which we have priced above as examples. If you cannot see a version or finish you require please do not hesitate to contact us by email at purves@purves.co.uk or call 020 3397 3723.
Designed by C.R. & S. Riva for Riva 1920.
Dimensions:
Project 1 triple bookcase with combination of drawers and flap doors with finished backs as fronts for room dividing:
Triple: w372 x d38 x h244.5cm
Finishes available on request: Walnut, Oak, Cherry, Maple and IronDust lacqurered effect.
Installation: Delivery and installation by our specialist team can be quoted for at the time of your order, but within the M25, we expect this will be between £95 and £120 depending on what has been ordered. Outside the M25, the price will increase depending on the distance from London.
Units in box: 1