News
Details

Wednesday, 24 April 2013
Blessed for a change, by sunshine on all three days in Milan after a prolonged cold spell in London - there was a sense of optimism in the air, which did not disappoint with many exciting new products - you can examine them all on our web site, by highlighting the "New" section on the Contracts page. Here is a selection of my favourites: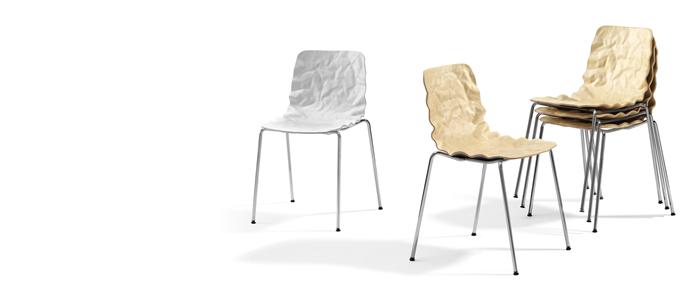 Just when you thought you had seen every possible variation on the wood veneered stacking chair, along comes a new one no one thought of before - Dent, with a gently crumpled shell, this certainly defies logic, and catches light most effectivley!
Benches were a common sight this year - the Moletta (yes, it means clothes peg) by Riva visible all over Milan, as were the Folly by Ron Arad for Magis. More practical were the Ikon units by Pedrali, comprising two elements able to make up a large number of configurations, and suitable for use outdoors:
Mainstream furniture that got my vote included the 32 cushion sofa (go ahead, count them!)

and the connection coffee table range, in several sizes, which picked up the copper theme which dominated the show. Now we know where it all went from the signal boxes! Although the world copper price is now falling...
Details

Wednesday, 27 February 2013
Spring Fair International
As ever, I approached Spring Fair with a degree of trepidation combined with déjà vu. Would the collective consciousness of British manufacturers and wholesalers of Household Accessories and gifts have been transformed in the space of a year to reflect the edict of William Morris that everything in the home should be both beautiful and useful?
Unlikely, and in the event not much had changed! Thankfully it meant that we did not have to cover all 20 halls, although my colleague's pedometer confirmed that we had covered 11 kilometres by the end of the day. One thing that struck me after 20 years at the event, was the resilience of some individuals in the industry – such as Mike Bliss and Sonia Spencer who have continued to innovate and use design to reflect the fashion of the day and launch products that people want to buy in sufficient quantity to keep them in business.
My eye goes immediately for the unusual, and none more so than the full size VW Camper Van tent produced by The Monster Factory; not only great fun, but practical. You will not miss it in the field of uniform mediocrity at the next festival you go to. And from the macro to the micro, nothing was more pleasing than the folding scale models of iconic buildings such as the Notre Dame launched by Monumini in shiny, delicate stainless steel.
Nothing is more sustainable than a well designed, well made product which will give decades of service. Yes, it may cost a little more at the outset, but as every year goes by, its value accumulates, and my association with it develops into a lifelong love affair! I can see this happening with the new 'Ohlala' watering can from French company Qui est Paul?, which is colourful, flexible and functional, and will also look good on the window ledge above the kitchen sink.
Andrew Purves
Eco Initiative
Looking forward we will be taking the sustainability theme further with the adoption of a sustainable, eco friendly range of products which are close to our heart and values in the way we view the world and try to do business.
As Purves & Purves customers you will have noticed that we recycle the packaging of our products so we don't apologise for the outer wrapping that our product range is delivered to you in, indeed it is our conscious decision not to purchase (where possible) new packaging but to reuse materials in which we have received goods. OK it's not always possible as safety of the package (especially our curved fireguards – try wrapping a metre long curved piece of glass!) is paramount, but every little helps.
Details

Friday, 22 February 2013
These UR tables are highly flexible, and can be made to custom sizes for meeting or boardroom with the option of the folding mechanism on single tables for conference or temporary meeting rooms where versatility is the key. Available in white lacquer as shown or in several wood veneers.
Mensa6, as the name suggests is a very thin table - in fact the laminated top is only 6mm thick, while the legs and frame are stainless steel making it very strong. Available in several sizes, this is minimalism with a twist.
On a playful level, use Neon Art for signage or just to brighten up the odd room in case you forget where you are! Every letter of the alphabet is available, as well as each number and a few common symbols. The characters can be mounted on the wall and link together for power, with a single lead to a transformer and socket.